Skip to Content
Trust the HVAC Specialists at Warrenfeltz Refrigeration Inc
There's nothing worse than experiencing HVAC failure at home or the office. It's difficult to sleep or work in piping hot or in unbearably cold temperatures. So you call an HVAC repairman, who tells you they'll arrive between 12 and 6 p.m. If you're experiencing heating or air conditioning failure at home, that means you have to stay home to wait for the HVAC repairman. Office managers and owners understand that HVAC failure can mean profit losses for the day. So why deal with a wait time? Warrenfeltz Refrigeration Inc promises no large appointment windows and 98 percent appointment time accuracy. We have over 50 years of experience servicing the Hagerstown, MD community, as well as Washington County, MD, Franklin County, PA, and Berkeley County, WV.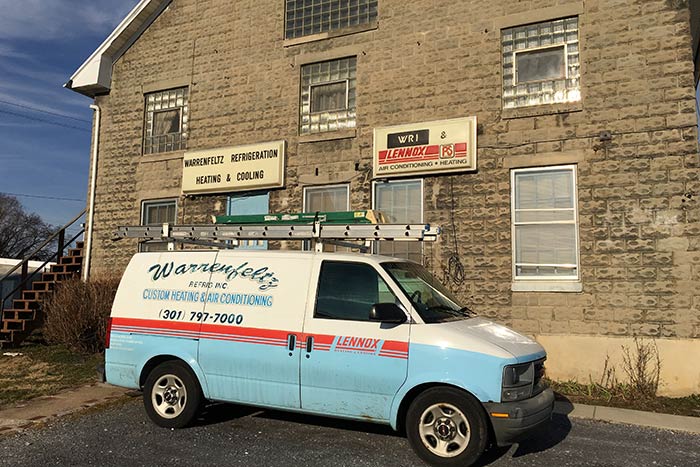 Serving The Community For Over 50 Years
Warrenfeltz HVAC & Refrigeration was founded in 1969. After five decades and two generations of ownership, we have our finger on the pulse of what makes our community, and the communities in our neighboring states, tick. We deliver outstanding customer service and top-of-the-line Lennox® HVAC equipment to homes and businesses looking to increase the energy efficiency of their house. We extend our brand of customer service to the application of premium HVAC equipment by:
Installing heating and air conditioning equipment made by Lennox®
Replacement of older, inefficient equipment
Installing and servicing refrigeration
Improving the air quality of homes and businesses
Contact Us Today to Learn About Our Service Contracts
We understand you might not want to rely on our availability when something happens. That's why our clients enjoy the benefits our service contracts provide them. These contracts offer our clients the regular maintenance, checkups, and full-service attention they deserve, keeping their residential property running on all cylinders. To learn more, contact us today.
Call Today to Schedule Service!